Delicious 3 Day Camping Trip
When you go out on a long weekend trip, the idea is to be out doing something fun and new. Not doing dishes or thinking about what you are going to feed your crew next.
Just a little planning can reduce the chores of cooking and bring big flavor and joy to your next meal, especially on the road.
Cooking doesn't have to be complicated or all made from scratch. Instead, think about how one meal can lead into the next with delicious leftovers and sides that are versatile enough to stand on their own or bring together a grilled protein and veggie.
Below are what I like to call, "separates". They all play nicely together or can stand on their own. Mix and match the different flavors to make your next camping trip pop with flavor!
Easy Pasta Salad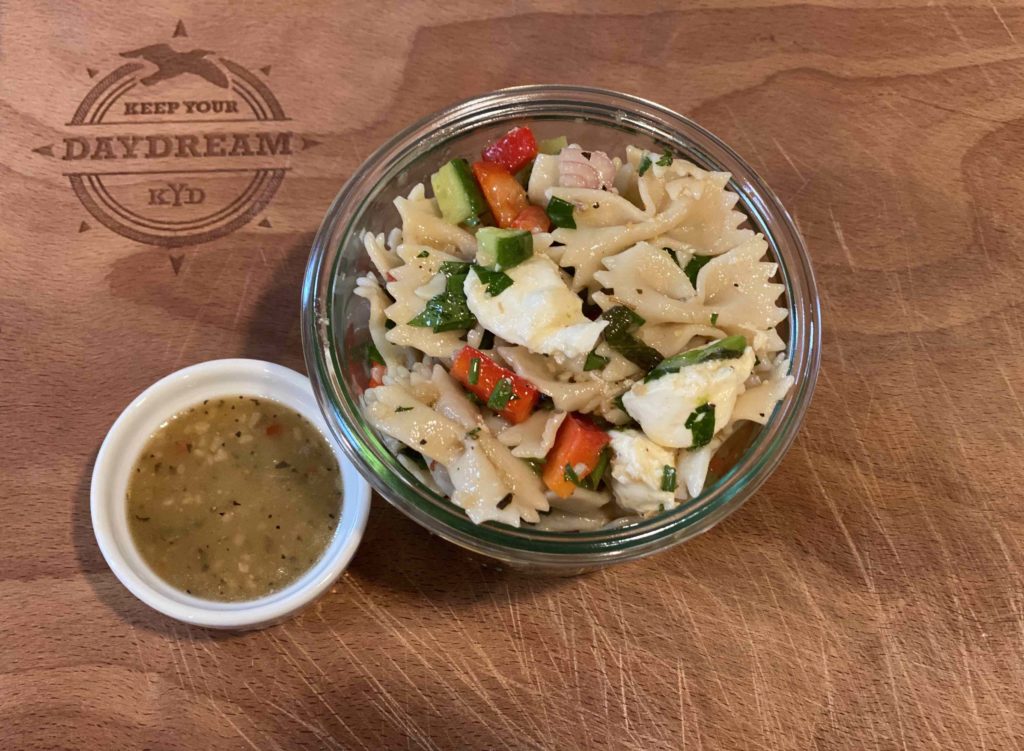 Cook 1 box of your favorite shaped noodles as directed on the box. Add a teaspoon of kosher salt to your water. Don't rinse when you are done. Instead add a drizzle of olive, stir, and let cool.
Then get your veggies chopped and ready in similar-size pieces.
We used:
1 red pepper – diced
1 shallot – diced
2 green onions – diced (green and white parts)
½ English cucumber – deseeded (I had baby "pickling" cucumbers so I used 2)
3 tablespoons chopped parsley
10 mint leaves
10 mini mozzarella balls – halved
Zest of one lemon
½ bottle balsamic or Greek dressing
Sweet Green Coleslaw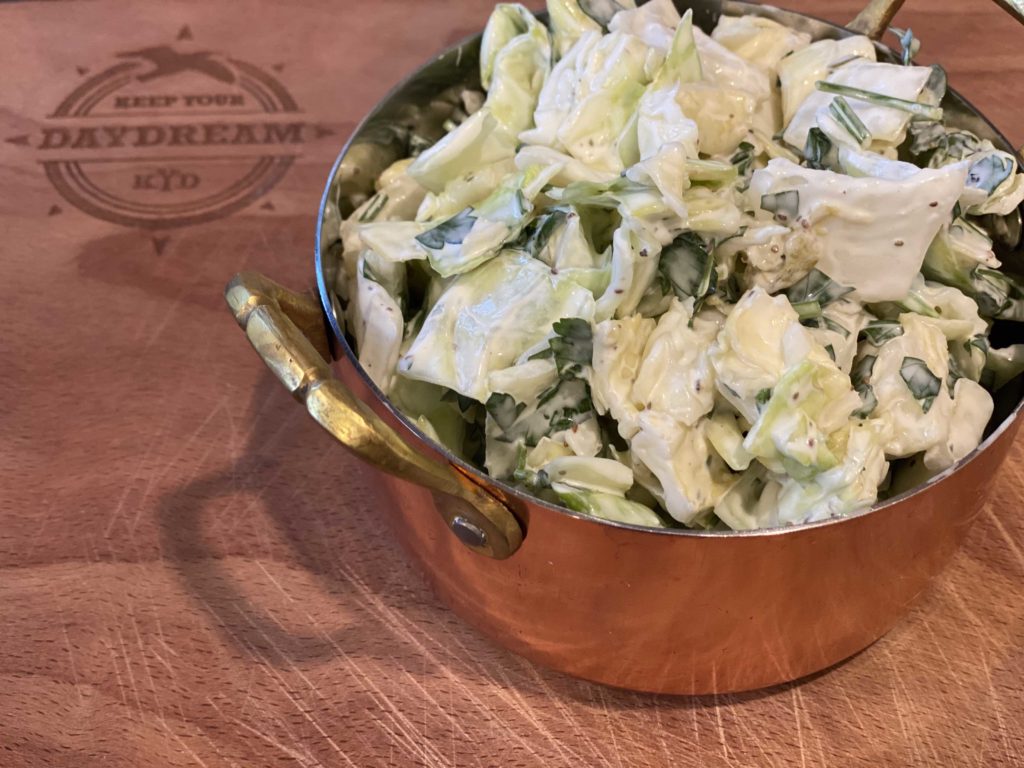 1 small head of cabbage – rough-chopped
½ head of flat leaf parsley – chopped
2 green onions – chopped, white and green parts
Dressing:
½ cup mayo
½ cup plain yogurt – unsweetened, whole milk (not Greek)
1 tablespoon sweet relish
1 lemon – zested and juiced
1 teaspoon agave syrup
1 teaspoon celery seeds – more as you prefer
Fresh-ground pepper – to taste
Mix and add into your cabbage. Refrigerate and eat the next day. Add a sprinkle of kosher salt the next day when serving.
Waldorf Salad – ish 🙂
This is not a traditional take…but the essence of the salad. Serve as a sandwich, wrap, or on lettuce for a nice salad. There will be a bit of dressing left to use as a finishing touch.
2 cans of all-white chicken – drained and separated into smaller chunks
1 cup of grapes – halved (red or green)
1 apple – chopped (red or green)
*I used half a green and two baby reds. It was what I had on hand, and gave a great blend of tart and sweet
2 stalks of celery – chopped
¼ cup raisins
¼-⅓ cup of pecans, walnuts, or almonds – rough-chopped 
*You choose your favorite nut. Traditionally, this salad is made with walnuts. I like pecans…but I had almonds on hand when I made it for the episode so we used those … Use what you have 🙂
Dressing:
⅓ cup mayo
⅓ cup plain yogurt – unsweetened whole milk (not Greek)
*Sometimes I use sour cream if that's what's available, but I prefer yogurt
¼ cup chives – chopped
¾ teaspoon dried tarragon
1 lime – zested 
Stir and taste. See if you can use some fresh-ground pepper or a small squeeze of agave if you feel it needs a bit of extra sweetness.
Homemade Granola
Preheat your oven to 300 degrees. You want to cook this slowly so your coconut doesn't burn.
½ cup coconut oil
⅓ cup pure maple syrup (you can go up to ½ cup if you like yours super sweet)
½ teaspoon cinnamon – more to taste
Stir, and then add in…
3 ½ cup old-fashioned oats
⅓ cup sweetened coconut flakes
Mix until the oats have soaked up the wet ingredients.
Spread out on a sheet pan lined with parchment paper. Bake for 30-35 minutes. 
It will fill your house with a wonderful smell! Once you start to smell it, check to make sure it is turning light brown…not burning. Depending on how dry your climate is, the oats will take more or less time. When it's perfectly browned, pull from the oven and let cool on top of the stove. 
If you like bigger chunks of granola, let it cool completely. It will break apart into larger pieces.
While your granola is cooling, measure out these ingredients and just pour them over the top. It will all mix in when you transfer it into a storage container.
½ cup slivered almonds
¼ cup craisins
¼ cup raisins
Enjoy this granola with yogurt, on an acai bowl in the morning, or as a light snack – YUM!!
Acai Bowl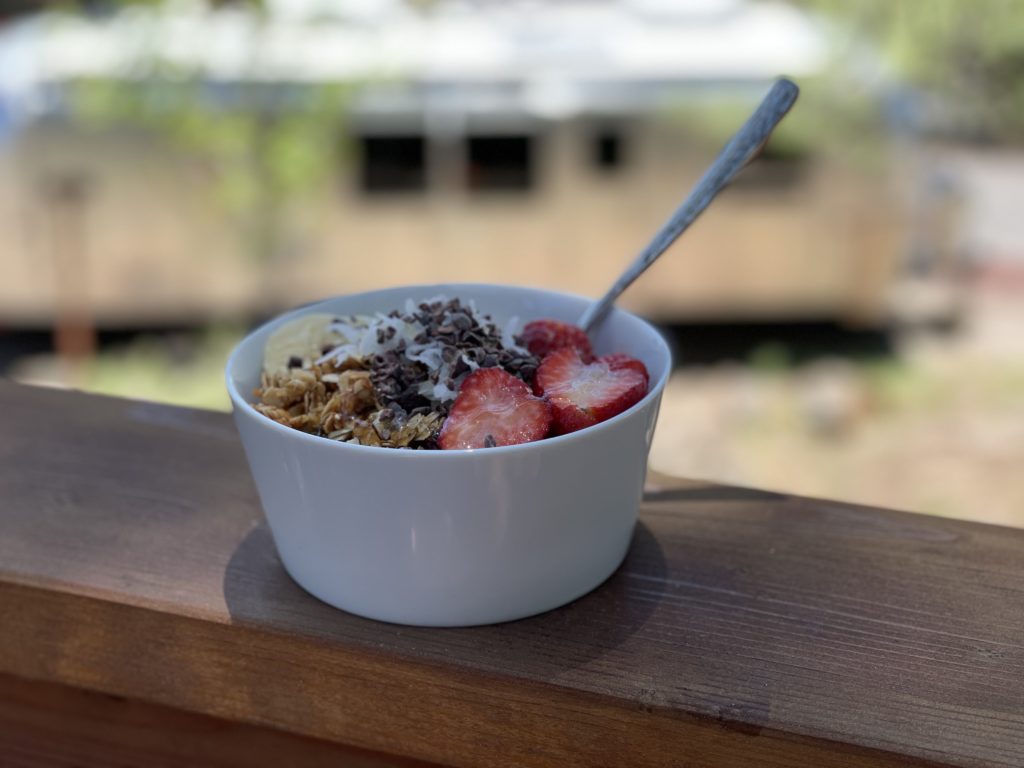 *Pronounced "Uh-saw-ee"
2 servings
In a blender add: 1 package frozen açaí – break apart (while still in the package) then open and put in blender. Be careful of your clothes. This will stain whatever in comes in touch with.
1/2 cup frozen sliced strawberries
1 teaspoon agave syrup
Pour in milk (or milk substitute i.e. cashew or almond milk) halfway over your ingredients (approximately 1/2 – 2/3 cup) add more if the blender freezes up.
1 scoop vanilla protein powder (optional)
Pour smoothy mixture into two bowls top half with granola cacao nibs (great for fiber and crunch)
1 banana sliced and divided between bowls
6 strawberries sliced and divided between bowls
Coconut shavings – to taste
Shortcut Spicy BBQ Pulled Chicken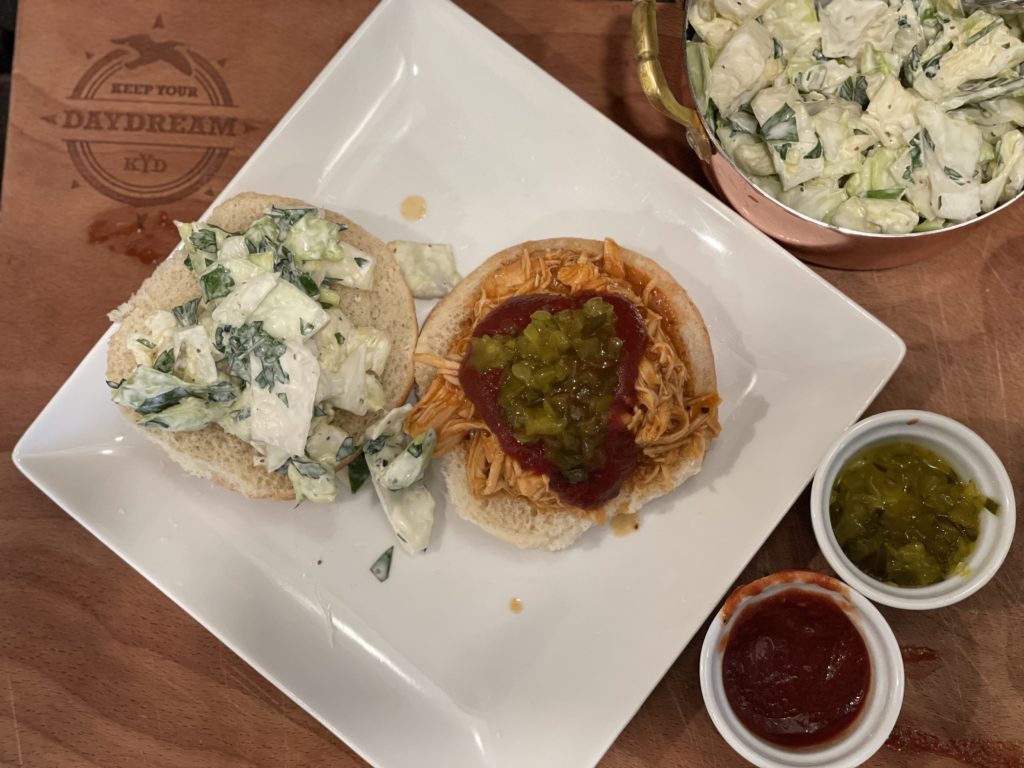 (in your Instant Pot)
4 chicken breasts
1 jar of your favorite spicy BBQ sauce
⅓ cup of water
Pour your BBQ sauce and water in Instant Pot and mix together. Add in your chicken. Close pot and close the steam escape. Set on pressure cook for up to 20 minutes. Release steam, open the lid and take two forks to shred the chicken. If your chicken breasts are small, you probably only need 15 minutes.
Serve these with small Hawaiian rolls, hamburger rolls, or Brioche buns. Some pickle coins or spicy pickled onions would be amazing along with extra BBQ sauce. The coleslaw is a perfect complement! YUM!!
Steak Marinated with Garlic Herb Chimi
*Utilize your griddle grill for dinners
We have used skirt steak in the episode, but you can use flank steak or reserve your chimi sauce and finish a nicer cut of beef like a Filet or NY strip, at the end of the cook.
The important things to know:
Use a HOT grill or cast iron pan. You want to sear—not steam—your meat.
Steak is done at 125 degrees (medium rare). Use a higher temp as desired for more well done.
Let your steak rest after grilling for at least 5 minutes before you carve/serve. This will allow the meat to reabsorb the juices.
If you are using a skirt or flank steak, cut against the grain.
Herb Chimi Marinade
– with a kick (you can use this for chicken too!)
5 cloves of garlic
Desired blend of herbs – on the episode we used:
Parsley
Basil
Mint
⅓ cup of olive oil
2 limes – zested and juiced
1 teaspoon kosher salt
1 pepper (serrano pepper shown – you can do jalapeno or dried pepper flakes)
Blend everything together, then put in a baggie with steak or chicken and let marinate for 30 minutes in the fridge. You can leave it for up to an hour but no longer, because the acid from the limes will start to "cook" the steak.
Flank Steak (From the Cookbook)
This is from the Grill & Chill section of the cookbook and what I normally make a Chimichuri!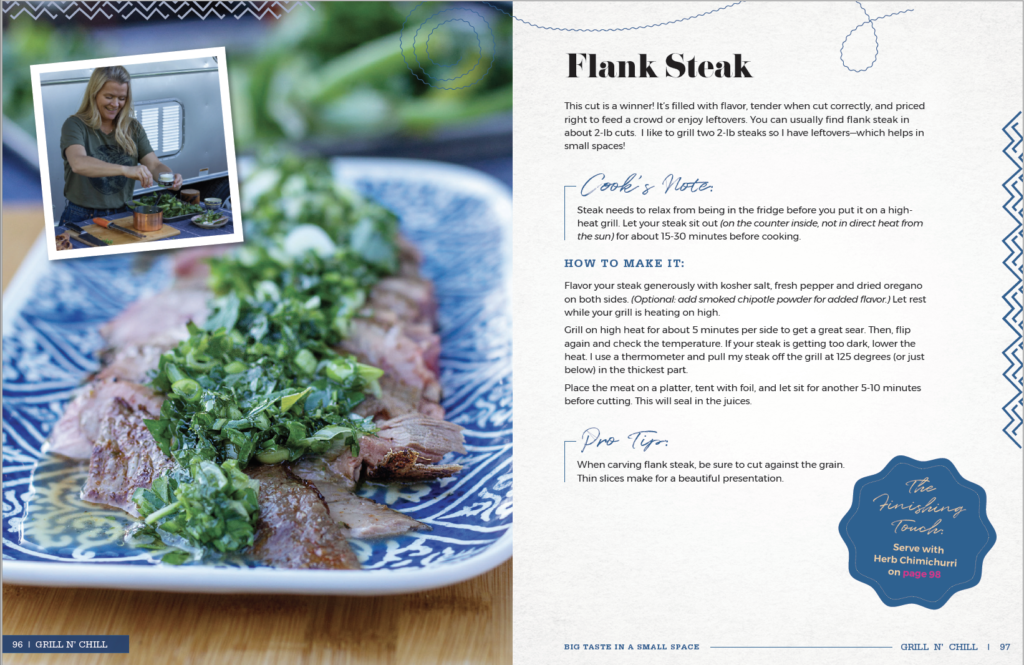 RSVP Your Copy of the Small Space, BIG Taste Now!

Chicken Thighs
– boneless, skinless
Use leftover dressing from pasta salad. Let sit in the marinade, refrigerated, for at least 30 minutes.
Grill until the chicken thighs reach 160 degrees.
Grill a lemon with the chicken and squeeze over the top once it's done. Juicy and yummy, and so easy too!
Grilled Broccoli
2 heads of fresh broccoli 
*because broccoli is hard to measure…that usually will fill half your grill or a sheet pan for your oven
2 tablespoons of quality olive oil
2 teaspoons of dried Italian seasoning or herbes de Provence
2 teaspoons of kosher salt
Fresh cracked pepper
Grill until brown but still crunchy, or bake at 400 degrees for 20 minutes.
When hot, zest and juice one lime over the top. Then taste and see if you need more kosher salt.
Mini Hasselback Potatoes
These little gems have been around since the 50's, when they were created in their namesake Swedish town of Hasselbacken. I love them because they take an unsuspecting potato and, with their signature slices, infuse the potatoes with flavor. Here is a garlic herb version for you to enjoy in your cast iron pan or in your oven.
Put about 5 slices in each of your small potatoes. Go past halfway through, but don't accidentally slice them in half. Then place in a bowl and drizzle about 3 tablespoons of avocado oil. Coat the potatoes with kosher salt and fresh-cracked pepper. Using avocado oil is a great choice so the fats stay healthy, even at high temperatures over long periods of time. If you are using the grill, you can cover your cast iron with some foil so you trap some steam and cook the potatoes faster. Check to be sure they are not burning on the bottom by turning once in a while.
The last 15 minutes or so of cook time, pour the garlic herb mixture (recipe below) over the top. The fats from the butter will give your potatoes a beautiful brown finish and your garlic will cook up nicely without becoming burned or bitter (this happens quickly to garlic). Use up whatever fresh herbs you have. If you don't have fresh herbs, start with 1 tablespoon of herbes de Provence in the beginning of the cook along with your oil, kosher salt, and fresh-cracked pepper.
Finishing touch melted garlic herb butter:
5 garlic cloves – zested or minced
2 tablespoons flat leaf parsley – chopped
~5 leaves of fresh basil – chopped
1 tablespoon chives – chopped
2 tablespoons of melted unsalted butter
1 tablespoons of quality olive oil
Pinch of kosher salt
Stir and pour over the top
If you have an oven and would prefer, you can bake these at 425 degrees for about 45 minutes. Use a knife to check for doneness. It should slide in very easily.