KYD Partners
Here are some partners that we recommend based on personal experience and reputation.
---
VIAIR 
Making sure you have the proper PSI in your tires is critical for safe RVing. Finding air on the other hand is pure torture. The best option is to have your own air.
The VIAIR 400P-RV Automatic Compressor Kit connect directly to the battery on your truck or RV with plenty of hose to air up your RV tires.
---
Best Way to Find RV Parks
Allstays. This is our go to app and website when traveling. The easiest way to find RV parks, States Parks, Walmarts, BLM and more. There are RV parks that don't have websites and not listed with Google that you'll find in one-click with Allstays. Click the link to check out the Allstays pro-version here.
---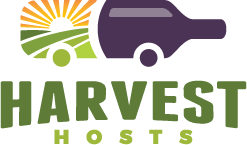 Harvest Hosts is by far our favorite dry-camping experience. There are over 600 stunning locations from wineries, vineyards, museums, and gardens all offering a unique RV experience while making new friends. Our favorite Harvest Hosts experience was bottling wine with Rio Seco in Paso Robles. For more information, Click Here.
---
How we handle our Mail on the road
We love our Traveling Mailbox and will never go back to traditional mail and all that "resident of…" junk mail! Our mail is emailed to us daily and we choose which items we want opened, scanned, shredded, or forwarded. To learn more and see it how it works, visit their Traveling Mailbox.
---
RV Extended Warranty
One of the reasons we were attracted to RV Living is its simplicity and peace of mind. There is nothing more stressful than worrying about a potential mechanical issue or trying to get your rig fixed on the road. Wholesale warranties helps with both cases. This is one of the best-extended warranties you can invest in, but what we like most is they will negotiate on your behalf to get the service you need. Request more information from them here.
---
RV Cell/Data Boosting System
For those that work remotely or need to stay in touch with home, a cell booster can come in very handy. Which cell booster we use is one of our top 5 questions. Weboost makes the best product and the Drive 4G-X RV boosts voice and data for all carriers, plans, and RVs.
Check out theDrive 4G-X on the Weboost Website here.
---
RV Solar Solutions
We're excited to have teamed up with Zamp Solar to recommend quality USA-made products with a dedicated team that will support the KYD Community. During our tour of the Zamp factory, it was clear that Zamp's craftsmanship had the attention to detail necessary to produce a built-to-last product. Visit Zamp's website for more information and how to get started with being even more sustainable.
---