RVing Alaska Recap
Our Route Starting at Dawson Creek
We really enjoyed the drive to Alaska. We were filled with excitement from our curiosity and anticipation. We spent a couple months preparing the truck and Grand Ginger (our 37′ Grand Design Reflection travel trailer) for the journey and wanted to know if the upgrades were really necessary.
The drive from Dawson Creek to Fairbanks took us 7 days. The time seemed to fly by with the sun not setting until 11pm each night. We would drive into the night thinking it was dinner time only to find out it's 10pm already. This served as an advantage and was fun to experience…until it wasn't. By August, we were ready to get back to our regular sleeping hours.
Here is a breakdown of our route on the Alaskan Highway
Night 1: Dawson Creek, AK – Mile "0" RV Park
Night 2: Dry camped just north of Fort Nelson
*Lunch at Liard Hot Springs (must stop)
Night 3: Watson Lake, Yukon – Downtown RV Park
Night 4: Whitehorse, Yukon – Walmart Parking Lot (That no longer allows overnight parking)
Night 5: Destruction Bay, Yukon – Dry Camping
Night 6: Tok, AK – Tok Village RV Park
Night 7: Fairbanks, AK – Rivers Edge RV Park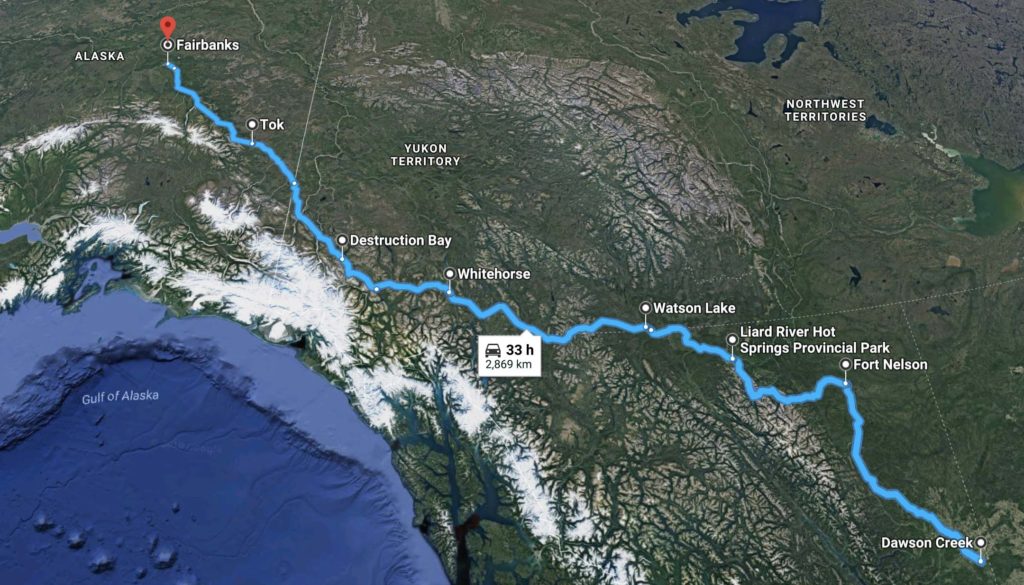 KYD Season 5 Alaska Route
Below is a map of the entire Alaska route, including only major destinations. As mentioned in the video, we are not the "conquerors" and as a result, we did not take the Top of the World Highway, Chicken (the town) or the 100-mile gravel "scenic route" to Denali. We much preferred to stick to paved highways that delivered us to where the adventure started.
If you click the map below, it will open in Google maps. This route started at "Mile 0" in Dawson Creek, BC and ended in Vancouver, BC. There are a few destinations not included such as Talkeetna, Ninilchik, Coopers Landing and Skagway. The best way to see all the destinations we visited is to watch the Alaska Series Playlist which will play the entire season in order.

KYD Fuel Log
If you're an accountant or going to audit these numbers, you will find some holes, but it will give you a good idea of how much it costs in fuel to drive to Alaska. The fluctuation in MPG has a lot to do with how much we drove in a certain destination without towing. We get between 18-20 MPG on our 2017 Ford F250 4×4 standard bed 6.7L Diesel Truck and 10MPG when towing.
KYD RV Park Lodging Log
We mentioned in the video that RVing Alaska can easily cost you $0.00 if you're set up and accustom to dry-camping. There are dry-camping options everywhere. Taking this approach will help offset the fuel cost or give you a budget for activities. For us, our RV lodging budget is $50 per day and we found Alaska to be roughly the same as the lower 48. As we mentioned in the video, we're partial to RV parks over state parks and dry-camping because we essentially have four adults (when it comes to water, dishes and electrical) and we don't like being limited to a location for just 2-3 days. We have found that we're more productive and it's easier to focus on videos, work and school when we have full hook-ups.
Below is a link to our lodging spreadsheet. This will show you our location, where stayed, the cost and if it rained that day. In the green shows our average monthly RV park cost and what we spent per month. If you click on the spreadsheet, you can see the entire PDF file. July was a bit more expensive because we stayed 7 days at Baluga Outlook RV Park in Kenia, AK at $88 per night. We stayed longer than expected here because of the dip-net fishing and to make time for our bear experience with Talon Air Services. The regular rate of this RV park $55 per night, except during July during dip-netting.

*To see the entire sheet click the sheet above and a PDF will open.
RV Alaska Gear
If you click on any of the images below, you'll be redirected to our Amazon Page Alaska category. These are the items we felt were particularly helpful during our trip. A waterproof jacket is essential for Alaska. Don't skimp on your rain gear! The Kuhl jacket below is one of my favorite jackets now and has a great spot for your phone that keeps it dry. There are also links to Tricia's favorite Alaska boots and the infamous #AlaskaHat
As you know, we're promoters of a second spare tire and the BAL hide-a-spare is a simple upgrade to towable RVs to keep an additional tire hidden with easy access. We also added the product we used to blackout our bedroom windows. We were excited to install it and even more excited to take it off!
We do have an Amazon affiliate account and do receive a small commission if you use our links, but you will not pay any extra and everything is private. We use the money we make from Amazon to buy more gear that we can share on the channel and review. If you do use our Amazon link, we get credit for what you purchase within 24 hours.
RV Alaska Top 5 Questions (Were the RV Upgrades Really Needed?)
The video below answers our top 5 questions about Alaska. This is the first of three Q&A videos about Alaska to help you plan and prepare for your Alaska adventure.
1. How are the roads to Alaska?
2. How bad were the mosquitos?
3. What's the cell coverage like?
4. How are the RV parks? Especially without reservations.
5. Were the upgrades really necessary?
Adventure, Tours & Guides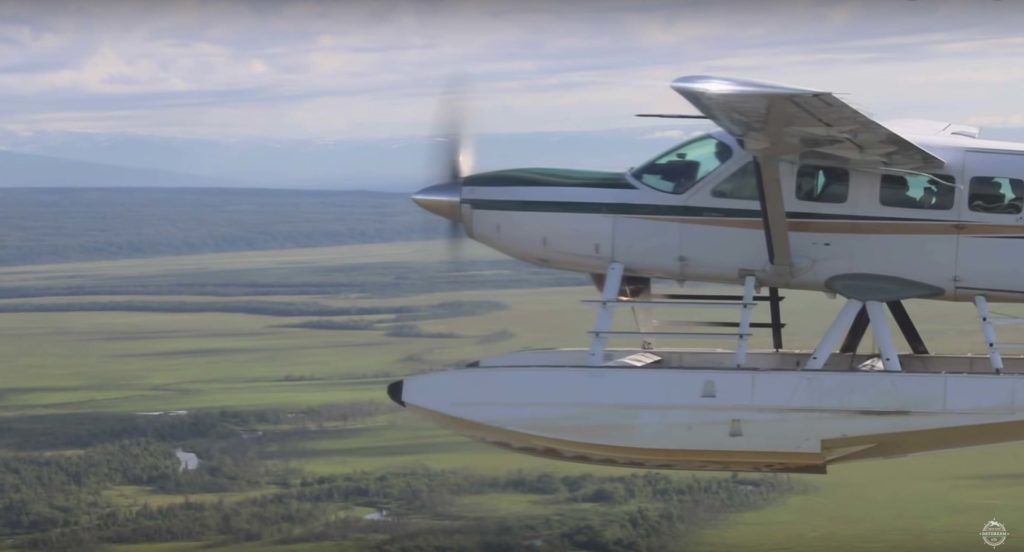 Some of the comments below asked about the cost of the activities. Good call. Going to Alaska can be a once-in-lifetime trip and making a budget for some activities can make it a lifetime memory.
Just as Trish said in the video, close your eyes and get in touch with your mental image of Alaska. Based on that image, prioritize your time and activities around that image so you leave feeling great about the time and money you spent in Alaska.
Some of the comments said, "How many days do I have dry-camp in order to do this??" That's a great approach. In Valdez there is a wonderful area to dry-camp by Valdez Glacier. Stay there to create the budget to go out on the Lulu Belle or tour Valdez Glacier.
If we were to go back, we'd bring blow-up paddle boards or kayaks so we could explore more ourselves on the water. We could have also hiked Exit Glacier without a guide, in Seward.
Fountainhead Antique Auto Museum in Fairbanks is $10 for 13 and above and $5 between 6-12
Riverboat Discover Tour in Fairbanks is $64.95 each. Very touristy with lots of people, but very informative and well fun.
Bear Viewing with Talon Air Service is $395 each. Expensive, but not compared to the other flight/fishing options and SO much value.
Denali Flight Tour with Alaska Floatplane is $220 each. The best way to see Denali as only 25% visitors get to see it.
LuLu Belle Boat ride in Valdez is $140 each. This is an exceptional experience and a great way to see Columbia Glacier
Valdez Glacier Guide is $35 each
Seward Ocean Excursions is $150 each
The Saltry in Homer is $60 each for the ferry + lunch
The Alaska Railroad to Anchorage (fares vary depending on location) Trish paid $200 from Seward to Anchorage for a Gold Ticket (so she could record the ride). The standard fare was $100. This was an Amazing ride and a great way to see the Kenia Peninsula.
KYD Best Of Alaska
Below are some of our favorite places in Alaska. It's hard to pick a single place as Alaska is so vast and different. Each destination has something unique that makes it special.
Favorite town (and best food): Homer, AK
Best RV town: Seward, AK
Best bear viewing (for free): Haines, AK
Most beautiful: Valdez, AK
Best town to view Denali: Talkeetna, AK
---
We'd love to hear from you if you have more ideas or feedback. Because of spam, all comments are held in a review queue until approved so it won't show up immediately, but we check comments weekly and approve.
Thanks for being part of the KYD Community! We'd love to get to know you more and meet for KYD Coffee ☕️. If you're looking for a smaller community and even more content, learn more about the KYD Insiders.