Big RV Solar & Lithium Setup
KYD's Approach to Solar
Our philosophy toward RVing has always been "starting small, now is better than starting big, later".
This approach applies to solar too. Our first system was a simple two x 6v battery setup with a 600-watt inverter and a 140-watt portable solar panel. As we gained more experience and started to dry camp more combined with knowing our power needs, we began to upgrade.
If you're not ready to invest in the ideal solar & battery system, don't let that stop you from getting started. Even a starter system will provide increased freedom and open up more dry camping opportunities. Once the cables are pulled through your RV, adding onto your system each year will be easy, especially when it comes to lithium batteries.
Our Battery & Solar System Breakdown
Below is a breakdown of the cost for this solar installation. These are retail prices. Keep in mind, there are savings when purchasing in bundles. Battle Born Batteries offers bundles to help you save. The costs were itemized so you can price what according to your needs. The installation for our Grand Design was 40 hours, but the installation time will depend on the overall project scope and where all the components will be mounted.

Itemized Breakdown of all the Components and Estimated Labor Cost
*The links above are affiliate links, but they don't add any cost to the products. The Battle Born Bundle offers a saving on retail pricing.
The Advantages of Lithium
We learned the hard way that running lead-acid batteries below 50% or killing them all together is a sure-fire way to get your awning left out in a wind storm! Maybe you're better at remembering to add distilled water to your batteries, but we'll be the first to admit that we're terrible at it. Granted, lithium batteries are 5-6 times the cost of lead-acid, but they also last 5-6 times as long and you'll get to enjoy twice as much power along the way. Just like your phone, when you run your battery to zero (it happens), just re-charge and you're good to go. Zero maintenance. Zero hassle. Combined with the Victron Battery Monitor and you'll know the status of your batteries through your phone at all times making dry camping far more enjoyable.
The Installation with Future Sales
FutureSales, Inc |Elkhart, IN
We were surprised to learn how difficult it was to find a reputable company that offers quality solar installation, especially on the road. We also wanted to work with a company that felt 100% comfortable recommending to the KYD community and we found it in a big way. The best way to describe the team at Future Sales is a solar think tank. They know electrical systems so well that there was not endless troubleshooting and testing, but rather, calm conversations and then execution.
We also learned that there is a distinct advantage of working with a company located in Elkhart, IN where a majority of the RV manufacturers are located. Future Sales has the ability to get OEM parts from down the street and even electrical schematics that most companies don't have access to. If you're anywhere near IN, we recommend connecting with the team at Future Sales.
Running the A/C on Batteries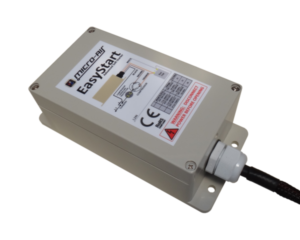 "Can you run the A/C on Solar" is a question we get often. And now the answer is yes, but you'll need a couple of things to make it happen. First, you'll need a battery bank and inverter large enough to handle the load and the second is a Micro-Air Easy Start 364.
As mentioned in the video, any device with the motor has an initial surge of amperage when starting. This is usually the surge that shuts-down the invertor or stops a single generator. The Easy Start 364 softens the start-up process and makes running your A/C possible with your batteries or single generator.
To get the technical information, specs, installation instructions and more, visit MicroAir.net *Use promo code KYD1 to get $25 off the Micro-Air Easy Start