YOUR 5 BIGGEST RV WARRANTY QUESTIONS ANSWERED
Is your dream to take off in a motorhome, RV, 5th wheel or travel trailer? Explore our breathtaking National Parks and meet bold new people living their dream?
When it comes to planning your RV travel dream, preparation is key. After all the planning and work put into your trip, protecting your dream is equally important.
Here are your 5 biggest RV warranty questions answered. To do this Tricia Leach, host of Keep Your Daydream Podcast (KYD) asked Jeff Shelton, owner of Wholesale Warranties to share what his years in the business have taught him.
Listen to the Episode Here
Do I Even Need a Warranty?
You've purchased your RV and you're ready to hit the open road. By now your wallet may feel like it's running on empty…and you're wondering if you even need a warranty. Here's what Jeff says, "…One of the biggest reasons people miss their payment on an RV is because they can't afford the repair and the payment…". Even if your RV is paid off or you don't see yourself in the above financial position – warranties continue to show a return on investment.
Shelton breaks it down like this… "Most repair shops charge $90 – $120 per hour."
Ouch! But wait there's more… "Parts are usually 2X that price so for a two hour repair you could be looking at a $600 bill". If you've ever found yourself in the shop with your car you know that 2 hours for a repair is just the beginning so imagine what it's like for an RV.
Is it Affordable?
Do you hire a professional to buy a house or do your taxes? Sure! Hiring someone that understands an industry and can represent you – offering protection from the unforeseen is a no brainer. Hiring Wholesale Warranties is the same idea and grants you access to highly qualified mechanics and staff that how to get you back on the road as quickly as possible.
Mark and Emily Fagan author a comprehensive RV and Sailing blog titled Roads Less Traveled. Here you can find a transparent look into what they paid for their extended warranty with Wholesale Warranties and how it, hands down, protected their 5th wheel purchase.
Even before your RV purchase, Wholesale Warranties can help in a few additional ways. First, they encourage you to look at the repair costs of different RV makes and models and add this into your decision making process. They have the data break downs (no pun intended) of what it will cost for you to make inevitable repairs on different kinds of RVs. Second, if you find yourself in the used RV market – WW can help demystify your purchase by doing an inspection to uncover some of the issues that might make or break your purchase.
No matter what stage you are in, Purchase of New or Used RVs or looking to extend your current warranty…Wholesale Warranties wants to help educate you. They know this will give you the confidence you need to hit the road!
How can a warranty help me on the road?
RV'ing can be an escape from our busy lives while still bringing the comforts of home. In fact, several people call their RV their "full-time home". So what happens when your "home" breaks down or your much anticipated trip comes to a screeching halt?
Jeff says this is when a Trip Interruption Plan will come in handy. Although there is no way to get around the frustration of an interruption – it does feel better to know you will have a hotel to sleep in and transportation – if your RV was your transportation – while your home gets fixed up for the trip ahead.
What Is the Tricky Warranty Language That Can Catch You Off Guard?
Preauthorization is the go to word for warranties and the number one mistake people make in repairs. Jeff shares that ANY repair needs to be "preauthorized" and can be done so by calling the 800 number your warranty company provides
This is also where WW shines as the chosen warranty company for Road Less Traveled. Not only does WW help with the preauthorization process, so you're not on the phone during a trip, but they uncover what can and should be covered on sicking points like labor and parts.
"Transferable warranties" is another concept that will have you covered even in a used RV purchase. Jeff shares that Wholesale Warranties are transferable. So when you're buying or selling you can continue a warranty plan under a new owner. This comes in handy when you're not working with a dealership but still want the confidence that you aren't just buying someone else's problems.
What isn't covered in a warranty?
 Shelton is very clear that a warranty can't cover everything and should be recognized as, "building on your coverage rather than replacing your coverage". This concept goes in both directions and can be applied to your insurance as well.
For example, you may think you have roadside assistance with your insurance but really that may only be for accidents and not for the repair you would need on the the rim of your tire or axle after a flat. Conversely, you could spill something on your electrical music components but this would be a damage situation – covered by your insurance vs. your warranty. Jeff and his team at WW make it their number one goal to educate.
In fact, Shelton started in the industry selling to dealerships but it was working with the customer that really got him excited. This inspired his move to starting and owning Wholesale Warranties. Now he removed the middle man and helps people get the most out of their warranty.
Jeff dives even deeper in the podcast episode of this interview – but he was sure to leave one tip for any shopper. "Whether you go with Wholesale Warranties or another operation…Be sure to find a warranty company that is backed by an A rating or A.M. Best", Shelton urges… "then you can feel confident when you need assistance – your warranty company will still be in business!"
About Keep Your Daydream Podcast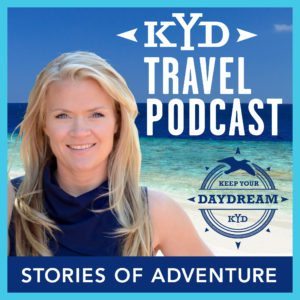 Keep Your Daydream is a top-rated weekly travel podcast featuring stories of people who have "leave normal" to pursue their travel dreams.
Stories include part-time and fulltime RV travel, sailing and Expert Series that bring the "how to" to your big travel dreams. Join Tricia each Sunday morning to stay inspired and learn from others that have taken the leap to make their dreams happen. Visit Keep Your Daydream website here and follow on Instagram, Facebook or Twitter.
About Wholesale Warranties
RV Extended Warranty coverage is the best way to protect the investment you've made in your motor home, 5th wheel, travel trailer, boat, automobile or other recreational vehicle from costly mechanical repair bills.
As modern RVs become more and more complex, the need for a quality RV Extended Warranty is becoming increasingly important for travelers of all kinds. These complexities, along with the ever-increasing cost of RV Repairs, have driven customers towards Wholesale Warranties, one of the fastest growing, and most trusted names in the RV Industry.
Visit Wholesale Warranties website to learn more about RV extended warranties.